Isabella Siddiqi (-Wutholen)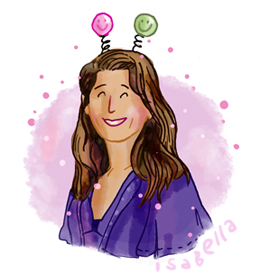 After my studies at the University of Geneva, I worked for almost 15 years in the private banking and finance industries and 5 years in marketing, PR, communication and event organisation. But I have been above all a very HappyMum for over 20 years !
The awe I saw on my son's face the first time I took him to a puppet show moved me and is forever engraved in my sweetest memories. We quickly became outings' fans. As I was working and running after time all the time, I one day thought "How practical it would be to have a calendar where we could select the date and see whatever is on for kids…" I didn't find it then and so decided to create it. First it took the form of the HappyKid newsletters that I sent to my friends, then to the friends of my friends, so that we could meet with our children and all have a good time. As time went by, the number of readers increased and I wanted to share the information in a more practical way.
During my working-mom journey the birth of one, then two, then three children have given me the most amazing joys but also a load of stressful situations to juggle with. The parenting job for those who wish to be active participants in their child(ren)'s development and well-being demands a lot of energy and time. My objectives with this website are to help them reduce the stress factor as much as possible by gaining time and sharing experiences and information. So if you have any suggestion or comment, please feel free isabella@happykid.ch!
Maud Riemann de Peyer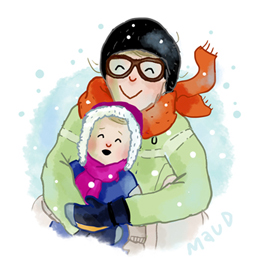 A free-lance author and illustrator, Maud has quite a bibliographie to be proud of and a really beautiful talent. What seduced me the most in her universe are the colours, her sense of details, the finesse of her drawings and her sense of humour, the softness and sweetness of her atmospheres and the happiness of all the kids. She works from Lyon for youth publishing houses, magazines, school books and… HappyKid ! Her drawings have been a source of inspiration for this project from the beginning. Discover her albums and the rest of her work on http://www.maudriemann.com/.  My kids' favourites are « La petite poule rousse et le renard russe » and « Contes de Chine ».